I traveled with a dear friend of YouCanFreeUs, who has worked tirelessly on behalf of refugees, widows, and orphans since the war began. We had the privilege of spending time with some of the young widows and their children, that YouCanFreeUs has been supporting.
One of these brave women told me that she and her husband were renovating a small apartment for themselves and their two daughters when the war began. Months later, after her husband was killed in battle, she faced the difficult decision of selling the apartment (cement walls only) and moving into a cramped two-room space with eight people. With tears in her eyes, she said, "I have no idea what we would have done had YouCanFreeUs not provided the funds for me to complete the construction of our apartment."
Another widow had just moved into an apartment provided by YouCanFreeUs in the center of town. Had it not been for this gift, the woman and her children would still be living with her mother in a home with no kitchen and no bathroom, and it was too far to travel to the medical center where her special needs child requires regular care.
The next day, we visited a place where monuments had been erected with life-sized photographs of the men from that town who had been killed in the war. At that moment, I hoped no more monuments would be required, but a few days later, my friend sent me pictures of more flag-draped coffins in the square.
All of the widows we met with had similar stories of desperate need, and they expressed their deep gratitude for your support during this critical time. We are so thankful for your support and all that it has accomplished.
Please know that YouCanFreeUs remains committed to helping widows and children in Ukraine.
Chris Potter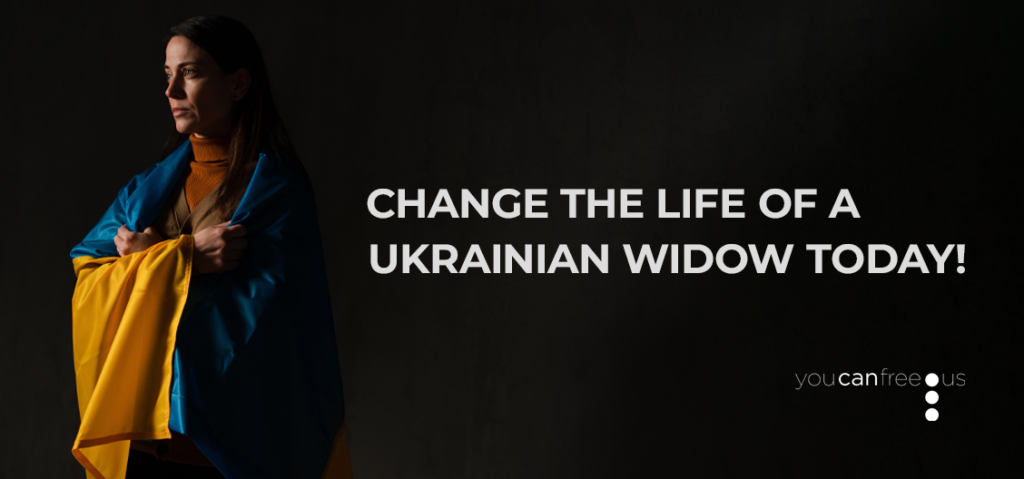 We want to give you an opportunity to invest in the lives of widows and the fatherless of Ukraine. We are making a big push to raise additional funds for the widows. We want to help them purchase new homes and cars and assist them with medical and living expenses.
Since World War II, there has never been a single world event where so many young women have been widowed in a war. We are counting on your support. Make a generous donation by clicking this link, and 100% of your donation will go toward the widows.